Ever imagined a comfort space where you could work, chill and also sip on some amazing coffee? Well, it's time to stop imagining and hit up Habidade, the multi-levelled coffee house in Noida that serves your senses with a lot more than just their excellently curated menu. Here is all that you need to know before you plan your next day out at Habidade.
The three levels of Habidade are designed and decorated differently to distinctly define the spaces, particularly for nature lovers, workaholics and artists. The ground floor or the green bubble has a wooden balcony with plants around and houses a live Barista counter. The floor above is the White bubble which is a comfortable and quiet space for working all by yourself or co-working. This floor also has a wall bookshelf with a lovely collection. The third floor which is known as the gold bubble is an artist's paradise. This is the space where workshops and other such events are conducted.
While we are all obsessed with the interiors, let us not forget the food and beverage options offered here. Their menu consists of a wide range of cuisines including both simple comfort food and fancy dishes. Other than the best dimsums in Noida, you can try kombucha, chicken mezze platter, sandwiches, pasta and of course, coffee at this coffee house in Noida.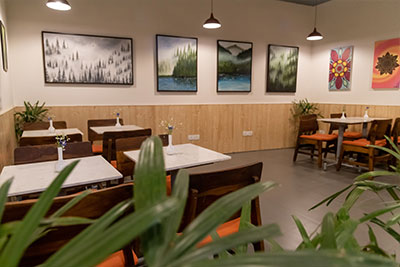 Started by three childhood friends, Habidade has something for everyone. Nothing better than a trio venturing into designing a new concept and bringing us one of the best spaces in Noida to max out productivity or spend a day cosily reading or just soaking in some artsy vibes of the place.
Address: Ground Floor, Yadhuvanshi Tower, Market, Hazipur, Sector 104, Noida
Timing: 11:00 am to 11:00 pm
Price For Two: Rs. 500