Having a great weekend but without hurting our pockets on expensive club liquor is all what our little heart desires for. And hence, we have put together a list of top BYOB (Bring your own Booze) venues in NCR. Go on, scroll for the exciting options, and plan your weekend right away!!
Weekend Wine and More
The Weekend Wine & More, which operates three cafes throughout Delhi-NCR, is a great place to spend time with your friends without breaking the bank. This place is an ideal chill spot in the city, with really cool interiors, a peppy ambience, excellent food, and a nearby liquor and wine shop where you can get your drinks.
Location: 504, 1, Hazipur, Sector 104, Noida
Price: INR 1,200 for Two
Timings: 12 noon – 11 PM
Oh Hi Yo, GK, New Delhi
Next on our list is this adorable cafe nestled in GK. Adorned with a pretty unique setup and ambiance, Oh Hi Yo is a mood to enjoy. It has an indoor and outdoor seating area where you can chill with your friends over booze and some really delicious food to gorge on.
Location:  E 1, DDA market 3, Masjid Moth, Greater Kailash
Price: Rs 1,200 for Two
Timings: 11:30 AM – 12 Midnight
Refill Republic, Gurugram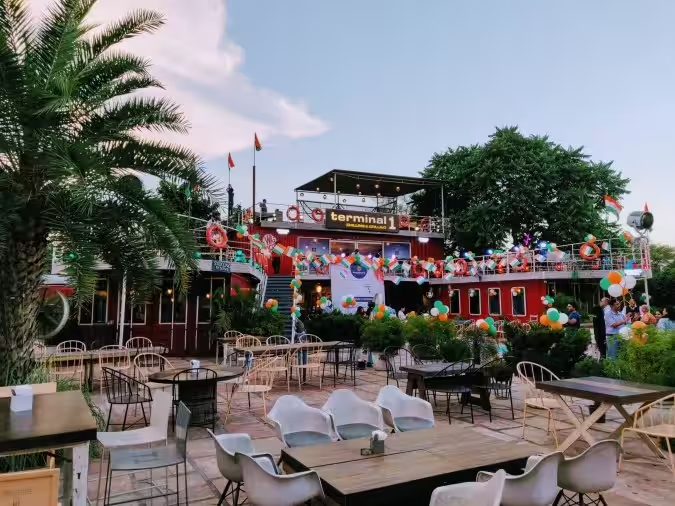 A gem of a place, Refill BYOB Hangout & Kitchen is a perfect place to entertain you with its extensive menu, exquisite taste, and lively ambiance. One of the best BYOB cafes in town, it is your go to place for a party to remember without actually hurting your pocket.
Location: IndusInd Bank Cyber City, DLF Cyber City, DLF Phase 2, Sector 24, Gurugram, Haryana
Price: Rs 600 for Two
Timings: 3:30 – 11:30 PM
Hyde by plan B, Gurugram
Hyde by Plan B is definitely your plan A if you like to unwind after work with a few drinks and delectable snacks. The vibrant, lively atmosphere of this place can instantly uplift your mood. With their super prompt service and a really delectable meny, you are all set here. 
Location: 14/3, Old Delhi Gurgaon Road, Near Infocity, Sector 21, Gurgaon
Price: Rs 1,000 for Two
Timings: 12:30 PM – 12 Midnight
Knite Ryder, Gurugram 
A stunning place to feed your hunger for aesthetics, Knite Ryder amazes you with the super facy setup spread across 3 floors. Impeccable taste to offer, they have a plethora of items, each one to impress. Head straightaway to this place and have fun with your drinking session ft. the exquisite food.
Location: Near DLF Phase 2 Rapid Metro Station, DLF Cyber City, Gurgaon
Price: Rs 1,200 For Two
Timings: 11 AM – 11 PM
Reset, Gurugram
Too pretty to miss, reset your plans if you have any and head straight to this stunning place serving you all things aesthetics. With chic vibes to delectable delicacies, paired with your own booze, Reset will take you in a different world.
Location: Alpha Corp, Golf Course Rd, Sector 43, Gurugram,
Price: Rs. 1200 for Two
Timings: 12 noon – 12 midnight
Bootleggers' Gurugram
Having an indoor and outdoor seating, Bootleggers brings together good food, good music, indulgent service and an exquisite experience. The place has something for everyone, enjoy sunset while you linger over your booze in this pretty rooftop cafe.
Location: Sector 62, Gurugram
Price: Rs. 600 for two
Timings: 5 pm – 12 midnight
Buck stops here, Gurugram
Known for its ambiance and music, Buck stops here is a very popular BYOB in Gurugram. You would surely like to do the reservations earlier as the place is a cult favourite among youngsters. The finest menu and a lively vibe, the place is nothing short of spectacular.
Location: DLF Cyber City, DLF Phase 2, Sector 24, Gurugram,
Price: Rs. 1200 for Two
Timings: 12noon – 12 midnight
The Friends Republic, Gurugram
Okay friends, the place is literally what is sounds like. Chic and elegant, the ravishing restaurant is there to impress you. Good music, mouthwatering dishes, gorgeous outdoor seating, stylish ambiance, and company of your friends – a combination not to miss on! 
Location: St Thomas Marg, near Paras Hospital, DLF Phase 5, Sector 53, Gurgaon
Price: Rs 1,000 for Two
Timings: 12 Noon – 12 Midnight
Jalsa Indian and and Ladhaki
Beer and momos? Why not! A perfect place for you on days you like to relish on momos and Tibetan cuisine. A plethora of delicacies to enjoy with your drinks, you would love this place for a chill time with your buddies. 
Location: Opposite Arjun Marg, Golf Course Road, Sector 27, DLF Phase 1, Gurgaon
Price: Rs 1,200 for Two
Timings: 11 AM – 12 Midnight