1. Hilltop Villa Stay, Bhimtal
This two-bedroom villa is situated in Bhimtal, almost 25 kms away from Nanital, next to Bhimtal lake. This
villa has all wooden interiors and can be a perfect home away from home for group of people travelling
together and willing to have a great time amidst the nature. The kitchen has all the facilities and the best
part is you can cook your own food or can ask the caretaker to cook as well at an additional cost. All
other amenities like hot water and cable TV are available 24*7. The common area is very beautiful which
has a living area and a dining area with a fireplace set in between. The property has a beautiful patio as
well. One can go for a beautiful hike in the mountains or sit next to the river to have a great time in the
evening.
2. Saffron Stays Norwood Cottage, Shimla
It offers a beautiful stay in the beautiful city of Shimla. It is centrally situated and beautifully built. Though
getting a booking here is often not that easy and one has to kept a keen eye on the bookings to get a
stay here but it's all worth it. The cottage has 4 bedrooms and can easily accommodate 10-12 people at
a time. It has 4 attached bathrooms and a kitchen. It is almost a 30 mins drive from Shimla Airport. But
one needs to be completely willing to cut off from the world entirely as this place doesn't offer Wi-fi and
internet connectivity is very bleak in this area. This place has a beautiful hall with a separate fire space
along with a separate dining area. The entire cottage is very beautiful and picture perfect. This place has
a very beautiful patio as well. If you are looking to get away from the hustle bustle of the city and have a
great pleasant stay then this cottage is a perfect place for you.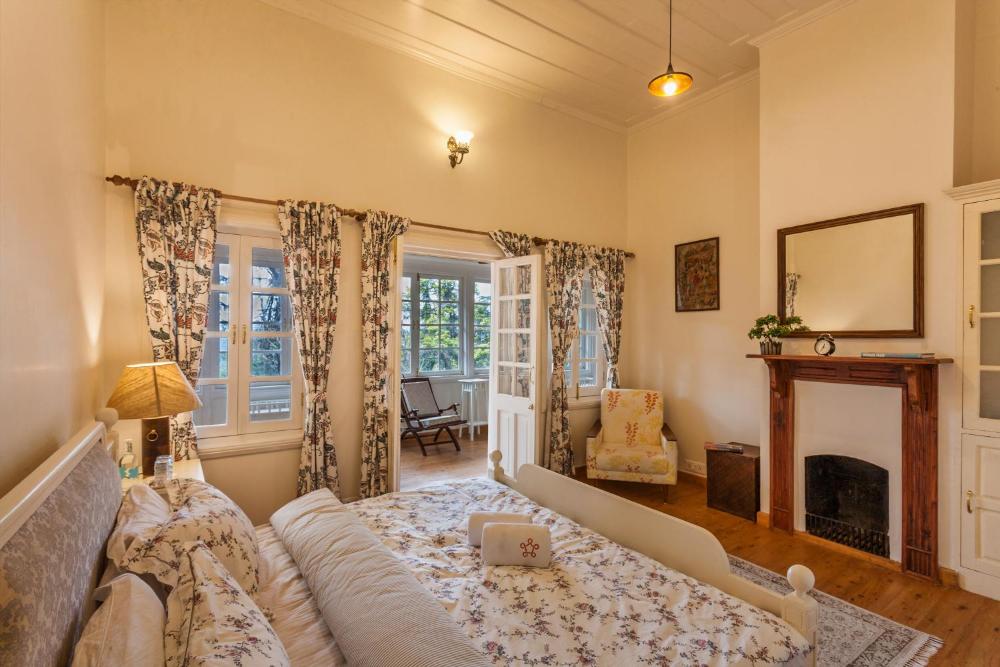 3. Cozy Cabins, Landour Mussoorie
Cosy Cabins is a 3-bedroom house which is situated in Landour, just a hike away from famous char
Dukaan. The House is present in densely covered area with tall trees and greenery. The bedrooms have
separate balconies and offers a perfect morning tea area & view. The bedrooms have attached
washroom rooms along with great study areas inside the bedrooms itself. At the max, 6-8 guests can
stay in this house at a time. This place has an amazing hall with dining area as well. It offers great front
seating and there is a small backyard as well. The space is big and a great place to slip into the nature
away from the hustle bustle of the city. This house is almost 30 mins drive from Mussoorie.
4. Taara House Manali
Taara House Manali is a luxurious cottage in the midst of Manali. It is a two-bedroom cottage which
follows the covid protocol very strictly. It has a beautiful wooden fixture in the cottage and architecture
done in such a way that a lot of light comes in the common area and the Bedrooms. The common area is
very beautiful and spacious. A great place to work and spend time in the nature. The cottage has a
beautiful outdoor seating. Interiors of Bedrooms are done in wood which comes with study space as well.
It offers an amazing scenic view to its residents.
5. Mud House Cottage & Sauna, Dharamshala
This beautiful, home-like cottage is situated between Dharamshala and Mcleodganj. Almost same
distance from both the cities. It is a very small & intimate cottage which has only one bedroom along with
a balcony and one small kitchen. It is perfect for solo travelers or for a couple to stay. The stay also offers
Sauna and Steam bath which can be availed on the property at a discounted rate. This cottage is exactly
located in Jogiwara Village, which is well connected to both the cities. The village itself has its own local
attractions that could be explored as well.