As we smell the sweet aroma of freshly baked goods, for a moment we suddenly forget about our worries, so step into the world of bakeries with us, where the enticing aroma of freshly baked bread wafts through the air, and delicious treats welcome you. From humble home bakeries to bustling artisanal boulangeries, all of these have one thing in common, their irresistible taste. In this article, we embark on a delightful journey, exploring the realm of bakeries and sweet treats in Delhi NCR.
1.LE MELANGE
Le Melange is a cloud based bakery in Noida, the chef Anjira Mehta is a Cordon Bleu Trained chef from Paris. Their macaroons are to die for and come in a variety of flavours. They also serve scrumptious dark chocolate cakes, banana loafs, concords, cookies, pies, nankhati and a range of Christmas themed delicacies. You can also customize your cake however you like here.

Address- A-Block, Sector 46, Noida
Contact- 9069211211
Delivery Zone- Delhi NCR
2. SASHMIKS BAKERY
Sashmicks is a premium bakery with outlets in Noida, Indirapuram, Vaishali, Vasundhara and Ghaziabad They have freshly baked items. Super delicious Cakes, Pastries & Cupcakes. Their specialty is their customized cakes which they make exactly according to customers needs and preferences. They are also open till late night so you can surprise your loved ones on their birthdays, anniversaries, or parties. Bestsellers are Chocolate Truffles, Blueberry cheesecake, New York style Cheesecake among more.
Address: Shop 2, Ground Floor, Sunder shopping complex, Sector 72, Noida, Uttar Pradesh
Contact: – 08287773269
Delivery Zone- Noida ,Indirapuram, Vaishali, Vasundhara and Ghaziabad
Website – https://sashmicksbakery.com/
3. BAKEBOOK CAKERY
Bakebook bakery serves egg free and Gelatine free cakes, pastries, muffins, pancakes and desserts with no preservatives. All their items are made from scratch everyday. They make aesthetically pleasing cakes that are as beautiful in taste as sight. They also make customized cakes, and have a variety of savoury options like lip smacking vegetarian sandwiches, Korean buns filled with cream cheese and loaded fries. They also offer coffee and thick creamy shakes
Address: 78, Maharaja Surajmal Marg, Rishabh Vihar, Bahubali Enclave, Anand Vihar, Delhi, 110092
Contact: 9773881191
Delivery Zone: East Delhi
4. STUDIO CAKE'O LUV
Studio Cake'o Luv, is owned by Megha Kwarta Madan a cake artist who specializes in multi tier couture cakes that are aesthetically pleasing. The bakery offers ,fancy cookies ,designer cakes covered in colorful fondant shapes, towers laden, cupcakes and cake pops for birthdays, anniversaries, kids parties and other occasions. Her bakery also offers master classes that teach the art of making designer cakes.

Address: Studio Cake 'O' Luv, TOWER-A, H-1002, Sector 45 Rd, Sadarpur, Sector-45, Noida, Uttar Pradesh
Contact: 09891797203
Delivery zone: Only pick- up
5. DESSERT BISTRO PATISSERIE
Dessert bistro patisserie is a French cloud patisserie that specializes in Cookie cakes. They offer customized cakes for different occasions ,French macaroons and delicious muffins and cupcakes. They make lettered and normal cookie cakes that are crunchy on the outside and soft in the inside. They also have freshly baked breads, like Foccacia, garlic bread, whole wheat bread , pesto bread, etc. They offer cheesy Korean buns and bagels.
Address- D-81, D Block, Sector 2, Noida, Uttar Pradesh 201301
Contact-08400452504
Delivery Zone- Delhi NCR
6. CHARLOTTE CAKE ATELIER
Charlotte Cake Atelier is a home bakery that serves beautifully crafted cakes, cupcakes, brownies, cookies, doughnuts and more for every occasion .You can also order wedding favours and gift hampers from them and choose the treats to be added to your hamper. They offer a range of mouth-watering cakes like Belgian Chocolate & Raspberry, Boston Cream Pie, Pineapple & Coconut Gateaux, Lemon & Vanilla, Cookies & Cream, including more. Their savoury options include Garlic bread loaf spiced lavash, Mixed Herbed butter ,Basil pesto sauce ,Brioche toast bread.
Address- T-43, Janta Market, Rajouri Garden, Delhi, 110027
Contact- +91 7838381663
Delivery- Delhi NCR
7. TUILERIES PATISSERIE
This patisserie will take you to the gardens of Paris, Jardin des Tuileries is a beautiful garden in Paris located next to the Louvre Museum. The inspiration and the concept Tuileries Pâtisserie comes from it, attributing to the Chef's training days in Paris, France. Tuileres is a French-style bakery offering macrons, quiches & bespoke cakes, They serve authentic French Entremet & cakes across Delhi, NCR. They also have assortment boxes and gifts and hampers for different occasions. Keeping the French theme alive, they offer savoury dishes like croissants and quiches as well.
Address- A 28, Industrial Area Phase I, Block A, Naraina Industrial Area Phase 1, Naraina, New Delhi, Delhi
Contact- 9999837015
Delivery Zone- Delhi NCR
Website- https://tuileriespatisserie.in/
8. LA LICORNE

Want a cute yet delicious Instagrammable cake? Well we have found the the perfect place! La Licorne promises to craft the most indulgent yet simple home bakes. They have become famous for their 'bento' cakes that are mini cakes originated in South Korea they are often eaten inside the package and are adorable AF! Their tarts, cakes, bundts, teacakes, scones, cookies and pies are decadent after-meal treats. We recommend their signature Basque cheesecake, Nutella brownies, Tiramisu cake, Zeus cake and Lemon cake among many more.
Address- 3rd floor, 4416, Marigold Ln, DLF Phase IV, Gurugram, Haryana 122022
Contact-9667509956
Delivery Zone- Delhi NCR
9. OH BOY PATISSERIE
Oh Boy offers a variety of cakes, cupcakes, and other pastries that are both delicious and Instagram-worthy. We recommend the Strawberry & Coffee Berliners, Blueberry Cheesecake Croissant and flamingo From their delicate cakes to fancy mini-pastries, everything here is as beautiful as it is delicious. They also offer eggless options and customized cakes according to your needs.
Address: F 140, Industrial Area, Mayapuri Phase 2, New Delhi
Contact: 8837842969
Delivery Zone: Delhi NCR
10. BAKE PATTISERRIE
They offer delicious treats like bomboloni ,macarons, mini pound cakes, belgian chocolate truffle balls and of course a range of beautiful and indulgent cakes. They have different flavours of entremets, a huge variety of cheesecakes, tarts, cookies and cookie jars and savoury puffs like butter chicken and masala aloo puff. Their blueberry Burnt Basque cheesecake, fresh fruit cakes and belgian chocolate truffle cake is a must try.
Address: Sector 17, Gurugram
Contact: 9311633055
Delivery Zone: Delhi NCR
11. OCTOBER DINING
Offering a wide range of cozy seating spaces, October dining offers its guests an experiential dining experience. If you are looking for the best Neapolitan pizza, then this should be your next destination. This multi-cuisine dine-in is run by experienced chefs and the menu offers Indian, Asian and continental cuisines. They also have a bake house where they bake delicious chocolate chip cookies, yummy boxes with truffle balls, rich pastries and gift boxes for different occasions like Diwali and Raksha Bandhan.
Address: 106 -107, first floor, Eldeco Aamantran, above SBI branch 120, Sector 119, Noida
Contact: 08826516500
Delivery Zone: Noida
12. WHIPPED
Whipped is a dessert boutique that offers sweet treats like cakes, cupcakes, ice cream ,cake pops, truffle balls among many more. Their cheesecakes are a must try , they also have a lot of jakes, which are cakes in a jar are as tasty as cute and convenient they are! If you and your partner can't decide what to order you can order their half and half cakes and stop fighting .They also offer gift boxes filled with delicious treats and personalized cakes. They also have an array of satisfied customers, including Sara Ali Khan!
Address- S-375, Inder Mohan Bhardwaj Marg, Block S, Greater Kailash II, Greater Kailash, New Delhi
Contact: 6366 448 868, text: 9560012777
Delivery Zone: Delhi NCR
Website: https://whipped.in/
13. BINGE BAKERY
Desserts that will make you drool even after you finish them! What? Don't believe us, visit or order from Binge right away. Binge bakery offers delicious sweet and savory treats ranging from puffs, croissants, bagels, pizzas and burgers to cakes, cheesecakes, entrées, cookies, pastries, and puddings .They've also got a huge range of breads baked fresh like American Rye, Focaccia, Pesto, Cracked Wheat and more. Don't forget to try their cheesecakes because they are amazing.
Address- A-7, Kailash Colony Rd, Block A, Kailash Colony, Greater Kailash, New Delhi, Delhi 110048
Contact: 01140079633
Delivery Zone: Delhi and Gurugram
14. SLOPPY DO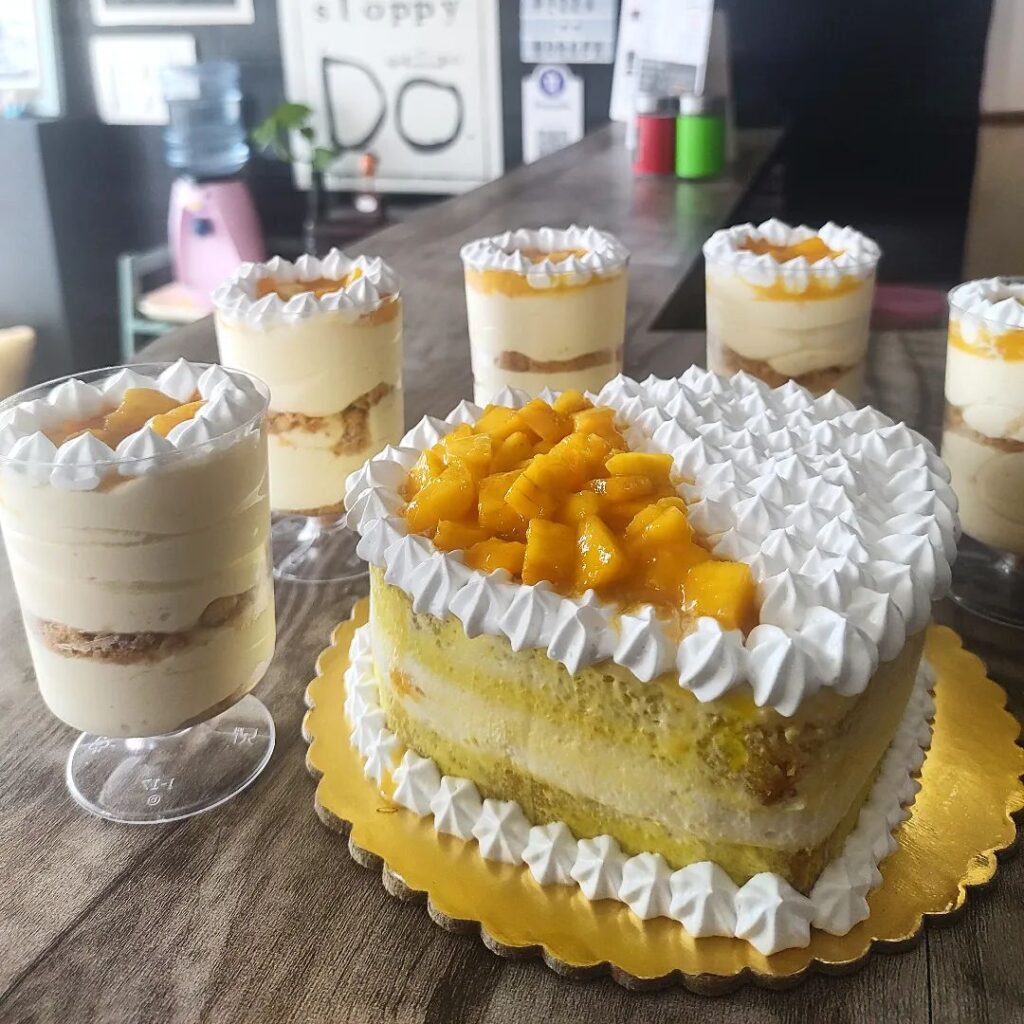 Sloppy do is a bakery, a pizzeria and a patisserie all in one! They offer cheesy flavorful pizzas like pepperoni and butter chicken that are amazing from the first bite to the last. They also have waffle burgers, pasta and fries. If you want a cake they make customized cakes exactly according to your needs, and have a range of Jakes( cake in a jar exactly like it sounds) . You must try their decadent chocolate chip cookies, cheesecakes and brownies.
They undoubtedly make the best Tiramisù in Noida. Their brownies are to die for!
Address- Shop No. 6, Ground Floor Sunworld Central, next to HDFC Bank, Sector 107, Noida, Uttar Pradesh 201304
Contact- 09319087378
Delivery Zone- Noida
15. HOUSE OF MIGO
Experience Dining & Sipping with Global Cuisine a skyline View, artisanal desserts and a good mood with House of Migo. House of Migo is a restaurant that serves delicious global cuisine and lip smacking cocktails. They also have a cakery that has amazing creamy cheese ,chocolate and fruit cakes. They make , gourmet ,handmade, Fresh, customized cakes for special occasions. The restaurant has been styled for serenity! Granted with an enchanting ambience and surrounded by a plush of sunshine to enjoy a feast with a view.
Address- Shop No. 203, Second Floor, To-Day, Logix Blossom Greens Noida, GH-01, Sector 143, Noida, Uttar Pradesh 201305
Contact- 09911182245
Delivery Zone- Noida
16. ME:ETTE
Me:ette has cakes that are so beautiful it feels like a crime to cut them. Their cakes are truly art with every nook and crook personified and attention given to detail. They truly make magnificent cakes. They also offer freshly baked breads like sourdough, banana bread many eggless options, cookies, truffle boxes, macaroons and a huge variety of coffee packs ranging from dark options to medium and light options . We recommend trying their Belgian chocolate cake, vanilla fruit custard cake and chocolate salted caramel cake.
Address- Shop no.6, First Floor, opp, Main Road, Khan Market, New Delhi, Delhi 110003
Contact – 09354324523
Delivery Zone- Delhi
Website- https://meette.in/
17. MIAM PATISSERIE
Looking for a pretty cake made with fresh fruits? Then head to Miam, their pastries, viennoiseries and cakes are made with, technique and precision. All their products are made without additives or preservatives, prepared from natural and seasonal ingredients and have a distinct style of presentation. They have an array of treats like cookies, cakes, bombolonis, croissants , savory puffs doggo cake( cake for your dog!) cream rolls, pastry boxes, entremets ,savory and sweat pies ,galettes and eclairs.
Address- F, 321 A, Old M B Road, Nai Basti, Lado Sarai, New Delhi, Delhi 110030
Contact- 09871441164
Delivery Zone- Delhi NCR
Website- https://www.miampatisserie.com/
18. AMARILLA PATISSERIE
Amarilla offers an array of delectable treats such as fluffy cakes, creamy cheese cakes , flavorful tea cakes and mouthwatering cookies and brownies. They make beautiful customized cakes , they take bulk orders and are perfect for gifting. They also bake extremely cute bento cakes . From delicate macarons in a myriad of flavors to perfectly layered tier cakes, every item at Amarilla Patisserie is a work of art. Amarilla also offers workshops for kids to learn the art of baking.
Address- C-6, Vasant Kunj, Delhi
Contact: 098101 26541
Delivery Zone: Delhi NCR
Website: 098101 26541
19. SWEET OBSESSION CAFE
If you want a designer cake that will have the guests in awe and drooling all over it, then you need to order from sweet obsession. They strive to make your sweet dreams come true by combining the highest quality and freshest ingredients. They also offer lip smacking coffee, salads, pizzas, pastas, ice cream and desserts at their outlet in Gurgaon. You can try their cheesecakes, tea cakes, cookies and cake pops.
Address: Shop No 309, 3rd Floor, South Point Mall, Golf Course Rd, DLF Phase 5, Sector 53, Gurugram, Haryana 122002
Contact: 9210940047
Delivery Zone: Gurugram
20. PAUL'S
Experience authentic French flavours with Paul India. they will take you on an authentic European experience with classic cuisine and world-class service. They are well known for having a variety of French delicacies and specialize in soft tender and crunchy signature breads, croissants and Viennoiserie. They have impeccable artisanal pizza, salads, pastas sandwiches, coffee and other hot & cold beverages along with a wide range of impeccably presented desserts.
Address-: UG-28A, Ambience Mall, Nelson Mandela Marg, Vasant Kunj, Delhi 110070
Contact: 07303767733
Delivery Zone: South Delhi and Gurugram
Website: https://www.paul-india.com/